Ironite Plus 3lbs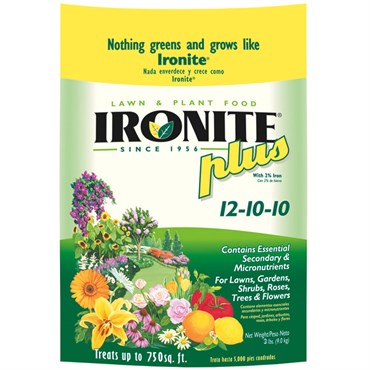 Ironite Lawn & Plant Food Plus is a multipurpose fertilizer that contains everything necessary for the growth of healthy plants. Its unique pellet formula is made up of all the essential primary and secondary micronutrients that plants need. Ironite Lawn & Plant food takes care of all trees, shrubs, gardens, fruit and vegetable plants, and lawns. The primary nutrients (nitrogen, phosphorus, and potash) work to promote green, healthy leaves, abundant fruits and vegetables, strong root and flower growth, and resistance to seasonal stresses.
Active Ingredient
Total Nitrogen (N) - 12% Ammoniacal Nitrogen - 12% Available phosphate (P205) - 10% Soluble Potash (Potassium) (K20) - 10% Sulfur (S) - 9%, Boron (B) - 0.02%, Total Iron (Fe) - 2%, Total Manganese (Mn) - 0.10%, Molybdenum (Mo) - 0.0005%, Zinc (Zn) - 0.10%
For use in
New and Existing Lawns, Vegetable Gardens, Shrubs, Trees, Roses and Flower Beds
Application
GARDEN:

 

5-10 pounds per 1,000 sq. ft. and work into the soil to a depth of 3-4 inches before planting, and water thoroughly
SHRUBS & BUSHES:

 

1/4 lb. (about 1/2 cup) shrubs 3-4 feet across; apply under the shrub and slowly water
- Apply in early spring and again in early summer, after flowers have fallen off
TREES:

 

1/4 lb. (about 1/2 cup) for each inch of trunk diameter
- Apply evenly on ground in a 3 ft. wide circular path to the drip line of the tree (The drip line is the outer perimeter of the lower branches of the tree)
- Water thoroughly after application and apply in the spring and fall
NEW ROSE PLANTS:

 

1/4 cup into the soil at the bottom of the planting hole
- Cover with 1 inch of soil and mix another 1/4 cup into the soil used to fill in around the roots
FLOWER BEDS:

 

5 lbs. per 100 sq. ft. and work into the top 4-6 inches of soil before planting
PERENNIALS:

 

3 lbs. per 100 sq. ft. when spring growth begins
- Water after fertilizing that will thoroughly soak the soil to a depth of 16-20 inches
* See label for complete application instructions
Pet safe
Yes, when used as directed on label
Coverage Area
750 square feet
Shipping is calculated based on volume and distance through either UPS or USPS. For any questions please email Pandysgardencenter@gmail.com.