Lilac - Monge Deep Purple French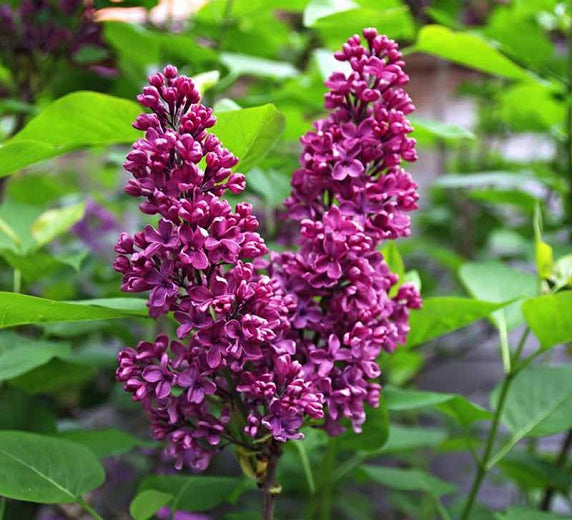 Lilac - Monge Deep Purple French
Nursery Stock is Unable to be Shipped Due to Agriculture Laws. Local Delivery is available, Please "Chat" Us for rates. Nursery Stock is available for pickup. Balled and Burlapped plants may need to be dug and treated to avoid transplant shock so pickup may not be available immediately. Our inventory is not perfect, if out of stock and searching for a specific size please "Chat" Us :) We will contact you with substitutions if we are out of stock.
---
Lilac 'Monge' – an outstandingly showy and fragrant French Hybrid Lilac that produces an abundance of deep reddish purple single flowers. It is a deciduous shrub with enchanting flowers. It is a consistent heavy bloomer and it has the true lilac scent! 'Monge' features a mid-spring bloom of fragrant, flowers in large panicles. 'Monge' is a Lemoine lilac first introduced in 1913. It typically matures over time to 8-15′ tall and as wide. It is noted for its spring (April-May) bloom of fragrant, single, deep reddish-purple flowers that bloom in showy panicles (each to 9″ long).


Lilacs have an aroma many associates with feelings of "home" or other pleasant memories. The clusters of fragrant purple flowers that adorn the lilac bush in the late spring mean that summer is just around the corner. They make a wonderful cut flower and look great with peonies or roses. The Lilac is a very common ornamental plant in gardens and parks, because of the attractive, sweet smell of its flowers. It grows best in a sunny location.
The Lilac is a reliable spring-flowering shrub for cold winter landscapes. They are excellent as a specimen/accent or in small groups, shrub borders, hedges or screens. Lilacs are also great for cottage gardens and as margins of woodland gardens. Great cut flower. If you want to attract Hummingbirds and Butterflies to your landscape, lilacs are a great choice for this. The characteristics that make these species so visually appealing – showy flowers, winter color – are some of Nature's most powerful draws for the animal kingdom. Turn your yard into a naturally balanced eco-system! You're sure to enjoy these plants for a lifetime. They provide food, shelter, and nesting. Plant your backyard sanctuary today!
Regular price
$29.99
$29.99
Low stock - 4 items left

Inventory on the way