Tom Cat Press 'N Set Mouse Trap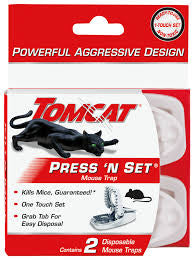 Tomcat Press 'N Set Mouse Trap effectively kills mice thanks to its innovative design. Its press-to-set feature makes it easy to use, while its built in grab tab offers no-fuss and no-touch disposal of the rodent. Guaranteed to kill mice, Tomcat Press 'N Set Mouse Trap can be a powerful ally in your fight to get rid of rodent pests in your home. After baiting the trap, place it where mice are active. After catching a mouse, simply use the trap's grab tab to dispose of the rodent.
Shipping is calculated based on volume and distance through either UPS or USPS. For any questions please email Pandysgardencenter@gmail.com.