Plum - Stanley Semi Dwarf Prune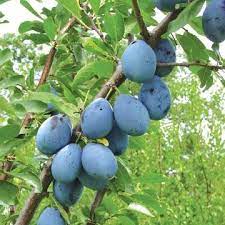 Plum - Stanley Semi Dwarf Prune
Nursery Stock is Unable to be Shipped Due to Agriculture Laws. Local Delivery is available, Please "Chat" Us for rates. Nursery Stock is available for pickup. Balled and Burlapped plants may need to be dug and treated to avoid transplant shock so pickup may not be available immediately. Our inventory is not perfect, if out of stock and searching for a specific size please "Chat" Us :) We will contact you with substitutions if we are out of stock.
---
The Stanley Prune Plum Tree is a consistent producer of beautiful, easy-to-grow plums – setting the standard for all plum varieties. Now one of the most popular European plums, the Stanley was developed in Geneva in 1926 at the New York State Agricultural Experiment Station, as part of Cornell University.
Beautiful blooms in the spring lead to an abundant crop of classic, oval-shaped fruits with deep blue-purple skin and sweet yellow flesh with a hint of green. The flesh is firm and does not cling to the stone. Stanley Plum Prunes ripen in early September. The fruit is tender with high sugar content, great for eating fresh and ideal for drying and baking.
Plant this fruit tree in well-drained soil that is amended with good organic matter, and you will be rewarded with bushels of juicy plums.
This self-fertile plum tree variety is perfect for gardeners in the Northeast, Midwest, and upper South. Easy to grow, beautiful to look upon, and a consistent producer, the Stanley Plum Tree is a must-have addition to your home orchard or edible landscape.
Regular price
$129.99
$129.99
Low stock - 1 item left

Inventory on the way