Squirrel Munch Box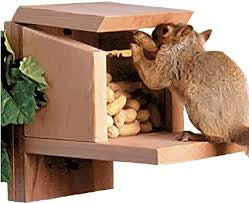 Long Lasting Red Cedar Squirrel Feeder Helps Keep Squirrels Away from Your Bird Feeders by Giving Them Their Own Selection of Treats.

Clear Plexiglass Window Compartment Holds Nuts, Corn and Other Tasty Treats. See Clearly When It's Getting Low.

The Squirrel Munch Box Has an Easy to Open Hinged Lid, Giving Squirrels Easy Access to Their Treats, and Still Keeps Food Protected from the Weather.

This Cute but Simple Squirrel Feeder is Pre-Drilled for Hanging on Trees, Poles, or Any Platform of Your Choice.

This Easy to Clean Squirrel Munch Box Measures 5.25L x 8.50W x 9.75H. Slip the Window Out, Brush the Debris Out the Front, and Refill.
Shipping is calculated based on volume and distance through either UPS or USPS. For any questions please email Pandysgardencenter@gmail.com.