Hi-Yield Bone Meal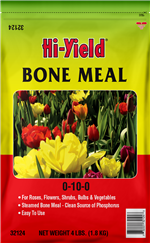 Hi
-
Yield Bone Meal
 0-10-0 Fertilizer - 
4 Lbs
. This steamed 
bone meal
 provides a clean, slow release source of phosphorus for roses, flowers, shrubs, bulbs and vegetables. 
Bone meal
 fertilizer helps plants 
produce
 sturdy root systems, hastens their maturity, and stimulates their growth.
Shipping is calculated based on volume and distance through either UPS or USPS. For any questions please email Pandysgardencenter@gmail.com.