Spruce - Slenderina Weeping Blue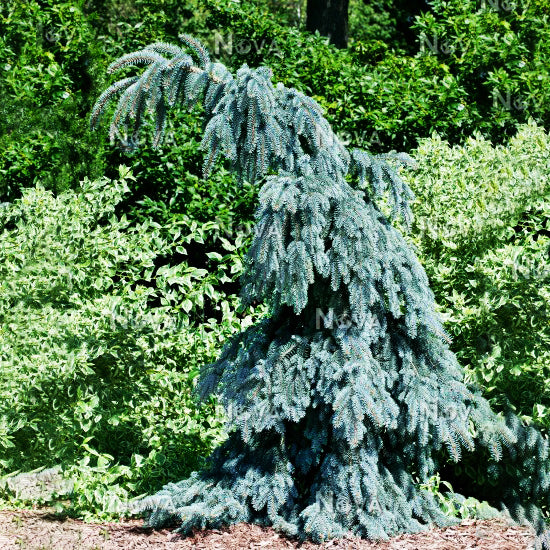 Spruce - Slenderina Weeping Blue
Nursery Stock is Unable to be Shipped Due to Agriculture Laws. Local Delivery is available, Please "Chat" Us for rates. Nursery Stock is available for pickup. Balled and Burlapped plants may need to be dug and treated to avoid transplant shock so pickup may not be available immediately. Our inventory is not perfect, if out of stock and searching for a specific size please "Chat" Us :) We will contact you with substitutions if we are out of stock.
---
Fine art and garden design have a lot in common. Beyond the fundamentals of line, color and shape—great visual art can and should evoke certain feelings as you view it.
This tree is a magnificent canvas that is waiting to whisper secrets to you. If you love plants, you'll lose yourself studying the intricate charm of Slenderina® Weeping Blue Spruce (Picea pungens 'Glauca Slenderina® Pendula'). 
With the same famous glaucous blue needles of its cousin, Colorado Blue Spruce, Slenderina delivers an amazing, steady shot of color all year-long. Like all evergreens, Slenderina brings structure to your landscape.
But unlike its uniform cousin, Slenderina has a wild and wonderful twisting, turning branch structure. No two trees are alike.
From a very strong central leader, the pendulous branches sigh and droop downwards. Some branches jut a bit outwards, then fall like the others.
Frankly, these specialty trees will tickle your fancy. And...they aren't for everyone.
Showcase your unique style by adding them to your space. At once ponderous and graceful, Slenderina has a story to tell.
It's okay to anthropomorphize this tree. How could you not? Give it a nickname, and consider it a family pet.
Whatever you'll call it, Slenderina deserves a special place of honor. You'll want to study the contrast of the strong, short needles and the seeming fragility of the branches.
This tree is a three-dimensional art object. You'll never grow tired of it.
| | |
| --- | --- |
| Botanical Name | Picea pungens 'Glauca Slenderina® Pendula' |
| Type | Evergreen |
| Mature Height | 12 - 15 feet |
| Mature Spread | 6 - 8 feet |
| Sun Exposure | Full Sun |
| Soil Type | Well Drained |
| Moisture | Medium |
| Growth Rate | Medium |
| Foliage Color | Blue |
| Fall Color | Blue |
| Pollinator Friendly | No |
| When To Prune | Early Spring |
| Fragrant | No |
Regular price
$99.99
$99.99
In stock, ready to ship

Inventory on the way